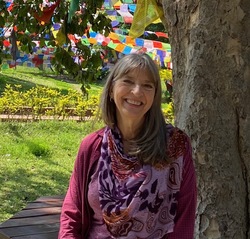 ....Welcome to FARMLLC......
Dr. Karen L. Jacobsen has been a veterinarian for 45 years. She spent 22 of these years in academia. While a college professor, she received numerous awards for both research and teaching. She was named Outstanding Teacher of the Year 4 times by the veterinary student classes at the University of Georgia, and received the coveted Norden Distinguished Teacher Award. Dr. Jacobsen consults with veterinarians and farms locally and internationally.
F.A.R.M., LLC
Areas of Focus
Dairy International Development
Cow Comfort & Cow Welfare
Dairy Nutrition
Sustainable Agriculture
DairyYoungstock
Dairy Reproduction
Rotational Grazing
Quality Milk Production
Milkers' Schools in Spanish
Labor Training (Bilingual)
Dairy Economics & Records
Interferons, Immunotherapy, and Virology
Veterinary Vaccination & Treatment Protocols
How to Contact
Dr. Karen L. Jacobsen:
email or cell phone are best (See email info below)
Dr. Karen L. Jacobsen
706-340-0999

How do I order Easy Dairy Spanish book & CD?
For Spanish resouces, click on the "Easy Dairy Spanish" page of this website. See Side Panel of page.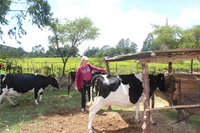 Dr. Karen Jacobsen volunteering in Nandi County, Kenya, with Catholic Relief Services via the USAID Farmer-to-Farmer Program in 2016.
Click here to email Dr.Jacobsen: